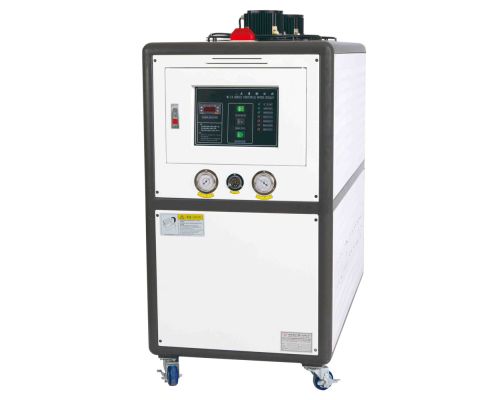 Description:
CW/A series industrial water chillers (water freezer) are used to cool down the molds of the molding machines. It can precisely control the mold's temperature and increase the product's level of smooth finish, reduce product surface grain mark and the internal stress, causing the product not to shrink, distort, advantageous for the product to come off the mold, accelerate product-molding and decrease the processing cycle.
This series design is innovative, high quality and easy to operate.
ML-CW/A series water chillers (water freezer) are widely used in the plastic, electronics manufacture, food, dying, ultra-sound and plating industries.
Features:
1. Selecting world famous brand compressor, which is tranquil, and saves energy.
2. Adopting well-known factory for high quality water pump with high water flow rate, the work life also prolongs.
3. Equipped with an imported temperature controller, it can precisely control in ±1℃, the control area achieves +3℃ to +30℃.
4. A variety water chillers (water freezer) to choose from: Single Unit and Twin Unit design.
5. The stainless steel open style water tank and the stainless steel rack ledger wall, it is convenient to clean and durable.
6. Using imported high quality copper pipe and refrigerant, the cooling effect is especially good.
7. The refrigerant selects R22, or environmental friendly R407.
8. For Air-cooled Type, the evaporator is set inside the water-tank of the chiller and the condenser radiates heat with fans, which is suitable for circularly cooling the mould where there is no water supply.
Safety Devices of Water Chillers (Water Freezer):
1. The control circuit uses a safe switch off control.
2. Equipped with phase-sequence protective device, short-circuit protective device, over-current protective device, freezing protective device, Hi-low pressure switch, water flow switch, electronic time relay, emergency stop switch, etc.
3. Water chillers (water freezer) are equipped with various indicators for various abnormalities.
4. Equipped with alarm and an indicator light will be turned on to alarm workers of abnormalities.
Related Product