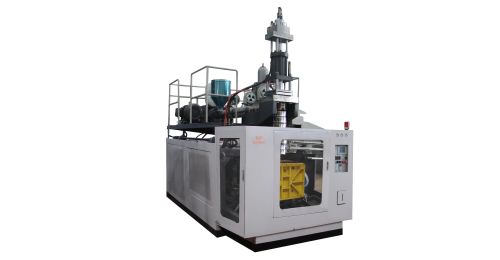 85Y1X1.25D 25L Blow Molding Machine
Introduction
| | | |
| --- | --- | --- |
|  85H1X1.25D 25L Blow Molding Machine | Example | Bottle 15 L, 1100 g |
| One Station One Cavity up to 25 L | Output | 45/hr, 1100 /day, 0.38million/year |
General Features:
1. Die head and lifting platform are designed in special way. Hence, it is more stable to raise the die head and move the die head forwards and backwards.
2. According to the
3、According to the double pump, proportion flow valve, the power consumption can be decrease;
4、Automatic lubrication system;
5、 It also has down blow pin, down widen device, mould stretch , double clamping and robot hand;
6、It could be optional configured with telemaintenance system;
7、The screw diameter is 85mm ;
8、The maximum blow volume is 25L,PE、PP、PS、PC、PVC can be used, suitable for production of chemical barrels、auto parts and pesticide sprayer etc.
Technical Data
1. General Features
| | | |
| --- | --- | --- |
| Carriage Horizontal Shuttle Stroke | mm | / |
| Dry Cycle | sec | 3" |
| Clamp Force | kN | 400 |
| Pressure of Hydraulic System | Mpa | 14 |
| Pressure of Pneumatic System | Mpa | 0.6-0.8 |
| Pressure of Cooling System | Mpa | 0.2-0.3 |
| Air Consumption (Estimated) | m3 / hr | 5 |
| Minimum Pressure for Cooling Water to Machine | Mpa | 0.2 |
| Power of Pump Motor for Hydraulic Movements | kW | 15 |
| Power of Servo Pump Motor (if Needed) | kW | (5.5) |
| Power of Die Head Heating | kW | 16 |
| Power of Knife | kW | / |
| Total Power Installed (Estimated, Maximum) | kW |  83.5 |
2. Extruders
| | | |
| --- | --- | --- |
| Screw Diameter | mm | 85 |
| Extruder Rotating Speed | / | 20~66 |
| Power of Electric Motor | kW | 30 |
| Power of Barrel Heating | kW | 15 |
| Max. Throughput = PE | kg/h | 130 |
3. Mould Dimensions
Maximum Width
A
mm
700
Maximum Length
B
mm
500
Minimum Depth
C
mm
250
Clamp Open Max. Daylight
D
mm
900
Open Stroke
E
mm
400
Max Weight of Mould
kg
500
4. Production Possibilities
| | | |
| --- | --- | --- |
| Cavities | | 1 |
| Max. Center Distance | mm | / |
| Max. Container Width | mm | 680 |
| Max. Container Height | mm | 350 |
| Max. Container Depth | mm | 340 |
| Container Capacity (Estimated) | lt | 25 |
5. Machine Dimensions
| | | |
| --- | --- | --- |
| Maximum width | mm | 1800 |
| Maximum length | mm | 3400 |
| Maximum height | mm | 3000 |
| Total weight | kg | 6000 |
Related Product