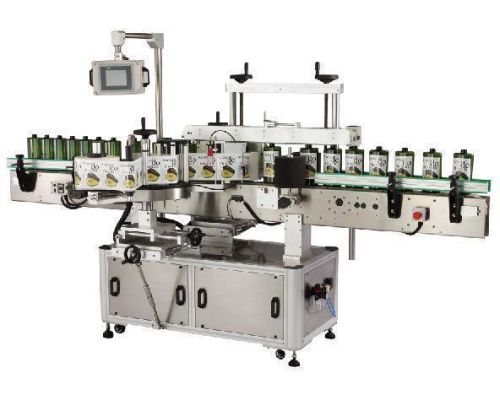 Description:
The 500ml-1500ml automatic cold glue labeling machine is specially designed for round bottles. Its working principle can be simply illustrated as follows: The labeling rod starts by applying some glue onto its surface, and the label box then passes the label to the rod, which rotates and passes down the label to the vacuum belt which then glues the label on the bottle. Components of Cold Glue Labeling Machine:
Label box, labeling rod, glue box and feed-in screw, vacuum box, vacuum belt and idler pulley.
Applications:
This cold glue labeling machine is applied for bottles of food and beverage, milk-based drink, baby food, hair care, soap and so on.
1. Food and Beverage (such as sauces, snacks, soft drinks, fruit juices, water, alcoholic drinks, etc.)
2. Dairy (milk-based drink, yogurt drink, coffee creamer, ice cream, etc.)
3. Nutrition product/Supplement (baby food, healthy food, etc.)
4. Home care (laundry, fabric care, detergent, cleaning products, etc.)
5. Personal Care (hair care, soap and bath products, oral care, skin care, cosmetics, etc.)
Specifications of Cold Glue Labeling Machine:
| | |
| --- | --- |
| Item | Parameters |
| Capacity | 100BPM (500ml); 60BPM (1500ml) |
| Bottle Diameter | 30-95mm |
| Label Size (L×H) | 50-110mm × 40-160mm |
| Vertical Tolerance | ±1mm |
| Labeling Rate | ≥99.8% |
| Voltage | 380V, 50Hz (adjustable) |
| Compressed Air Consumption | Min. 4-6bar × 18L |
| Glue | Water Soluble Liquid Cold Glue |
| Power | 1.0kw |
| Conveyor height | 880±40mm |
| Weight | 550kg |